In 1998 members of Hackney's Caribbean communities shared their memories and experiences as the Windrush Generation in interviews recorded by Hackney Museum. 25 years later, to mark the 75th anniversary of the arrival of the HMT Empire Windrush, this series revisits their stories.
This blog explores the cultural influences of the Windrush Community on Hackney and looks at the generation coming up in the borough today.
Caribbean Hackney
Today Caribbean culture can be found throughout Hackney as a result of the people who made it their home over the second half of the 20th century, from the local businesses and entrepreneurs, to religious and community centres, cafes, celebrations, music and food. In the early days of Windrush, these cornerstones of Caribbean culture were not so easy to come by.
Mrs Rigg first moved to Hackney in 1951, arriving on a banana boat from Jamaica. She moved in with her husband in Stoke Newington, bringing bananas from the boat with her. Her pregnant Trinidadian neighbour could not believe her eyes when she saw the banana skins. She was craving bananas, but at this time you couldn't find them in Hackney!
Over the next 40 years, Caribbean entrepreneurs opened local businesses across the borough, particularly in areas such as Dalston, making Caribbean food available to everyone.
In 1998 Mrs Riggs said you could buy all varieties of fish and vegetables, such as yams and green bananas in Hackney. There was even a Hackney carnival that celebrated Caribbean dance, music and performance, which started as a community celebration in 1973.
A great deal is different but, nowadays it has brightened up again because whatever activities we used to enjoy in Jamaica, we have come over here just the same now. We have a carnival.

Mrs Rigg, Hackney Museum 2016.21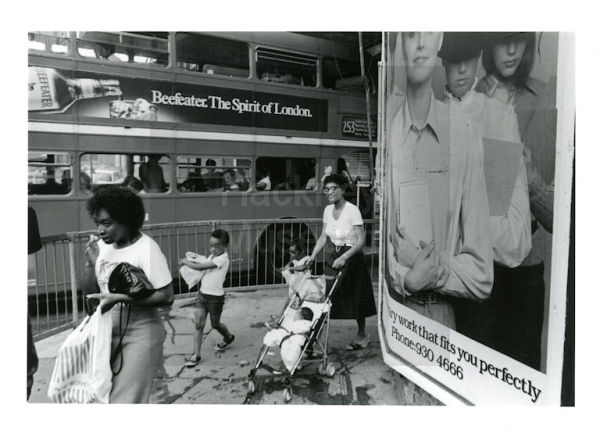 Coming up in 1998
By 1998, Hackney, London and Britain had come some way since the overt and institutional racism people with Caribbean heritage had experienced over the 50 years since the Empire Windrush arrived. Yet, the generation coming up in 1998 still faced challenges in their day to day lives.
Faye Bernard was born in Sheffield, a second generation Windrush descendant. She moved to Hackney as an adult and worked for Centerprise, a community centre and bookshop in Dalston that had a history of supporting working class, African and Caribbean communities. Faye felt that Hackney's diverse population made things a little easier.
[In Hackney] People have little choice but to accept you because there are so many different black people from different countries.

Faye Bernard
The 1991 census found that Black Caribbeans made up the largest non-White ethnic group in Hackney at around 11.3% of the population. Despite this, many people still experienced some form of racism and prejudice from day to day.
At the time of the interview, Faye was studying for an MBA at North London University. She'd seen the difference in opportunities black people experienced and noticed in professional settings when she was the only black person in the room.
Many black people know that ambition is only one quality that one needs to have. You have to try harder and study harder and work harder.

Faye Bernard
Some of the interviewees in the 1998 oral histories expressed their motivations for supporting the Caribbean community in Hackney in the face of institutional racism. Faye wanted to address inequalities through her work with Centerprise:
'I recognise the massive inequalities between black and white people, but whilst I can't change the world, while I am in any position of authority, I encourage black people I am with to aspire to greater things for themselves'.

Faye Bernard
Faye Bernard, photograph used in original Windrush and Beyond exhibition at Hackney Museum.
And Beyond
In 2000 Hackney Museum used these 23 oral histories in an exhibition called Windrush and Beyond. The exhibition recognised Hackney as a diverse place that still needed to take steps in integrating their communities and ensuring that job opportunities were equal. The message was hopeful that this would be achieved in the near future.
Since this exhibition, the Caribbean community in Hackney has been shrinking: the 2021 census found that people identifying as Black Caribbean only made up 6.9% of the population, 2500 fewer people than those who had been living in Hackney in 2001.
Many people, including those with Caribbean heritage, have left Hackney due to the effects of gentrification. Housing is no longer as affordable as it once was when many first arrived in the borough. A significant number of people have moved to areas less central, such as Barking and Dagenham, and Croydon, boroughs which have seen an increase in their Black Caribbean populations in recent years. This withdrawal from Hackney has given rise to fears that it will lose a community who were pivotal in revitalising the area.
In commemoration of the Windrush Generation and their impact on Hackney, in 2021 and 2022 two permanent statues were erected around Hackney Central: Thomas J Price's Warm Shores stands outside Hackney Town Hall, has been created based on the likeness of 30 Hackney residents who were either part of the Windrush generation or descendants. Veronica Ryan's Custard Apple (Annonaceae), Breadfruit (Moraceae) and Soursop (Annonaceae) fruit sculptures are at the bottom of the Narrow Way and reference the fruit available at Ridley Road Market.
These statues and the oral histories stand as reminders of the Caribbean communities' legacies in the borough and how their stories and cultures have shaped the Hackney as we know it today.
Thomas J Price Warm Shore unveiling and National Windrush Day celebrations – June 22 2022 © Hackney Council
Find out more in the previous blogs in this series: Togetherness and Coming to Britain. 
Content for this blog featured in the exhibition 'Windrush and Beyond' (2000) at Hackney Museum.