Saturday morning shoppers on Mare Street, between Woolworth's and the corner of Amhurst Road, c.1962, Hackney Archives P701
In 1998 members of Hackney's Caribbean communities shared their memories and experiences as the Windrush Generation in interviews recorded by Hackney Museum. 25 years later, to mark the 75th anniversary of the arrival of the HMT Empire Windrush, this series revisits their stories.
This first blog post explores their first experiences and challenges in coming to Britain.
Coming to Britain
Caribbean communities began settling in Hackney from the 1950s. Following the Second World War (1939-45), Britain relied on foreign workers due to the backlog in work and staff shortages, particularly in the manufacturing and transport industries. In response, the British Citizenship Act 1948 enabled people from current and former colonies of the British Empire to live and work in Britain.
In 1960, 30 year old Earlow Bagot left Demerara, British Guyana, for Britain to learn mechanics. He took a plane from Guyana to Trinidad where he joined a ship that sailed to Britain. As he approached Britain, he was surprised that the sun in Britain was very bright but had no heat in it!
When I was young in Britain, I always said to myself that I would give Britain the best working days of my life and it is true, I have. I have helped to build Britain.

When I was a young mechanic, I worked so that people could use their cars to go to work, so I was helping Britain. They may not look at it that way, but I do.

Earlow Bagot, Hackney Museum 2016.63
During the 1960s and 1970s, people found homes across Hackney; Antiguans and Jamaicans settled in Stoke Newington, and St Lucians and Dominicans moved to neighbourhoods in Clapton.
Louise Rouse moved to Hackney in 1961, following her husband who had come to Britain a year and a half earlier in search of a better life. In reality, Louise encountered discrimination from job to job, and struggled to find a place to live.
When I came here, I expected everything would be beautiful. That is what I had heard. Many white people looked at you as though you came from nowhere.

Louise Rouse from St. Kitts, Hackney Museum 2016.35
Earlow Bagot with family c.1998, © Hackney Museum
A place to live
Many of the first Windrush arrivals in the late 1940s and 1950s initially settled in areas such as Brixton and Notting Hill. James Fletcher was immediately struck by the low standards of living. He, like many others, tried to rent individual rooms from landlords at first, who were not always ready to provide accommodation.
You couldn't help but notice the number of cards, which had 'No Blacks' on them, as well as 'No Irish' and 'No Dogs'.

James Fletcher, from Antigua, Hackney Museum 2016.33
Mavis Stephenson wanted a home with her new husband, who had been her pen pal when she was in Jamaica and paid for her to join him in Britain. She experienced a more subtle rejection from landlords:
The housing situation was quite bad. When you went to look for homes, it was already gone, or they were not renting. They never said go away, but the rooms were never available.

After a while my husband said he couldn't take it anymore, and so he decided to buy his own.

Mavis Stephenson, Hackney Museum 2016.28
With a large number of white landlords refusing to rent to Caribbean tenants, many decided to leave the renting market altogether and buy their own property. From the 1960s onwards those already living in London started moving to Hackney, attracted by cheap and available housing.
For Mavis and her husband, they sold their home in Highbury to move to Hackney to escape one of their white neighbours who made them feel uncomfortable. James Fletcher also left Islington when the local council refused to help him find a house, and bought a house in Stoke Newington. Mavis and James were both living in these houses when they were interviewed in 1998.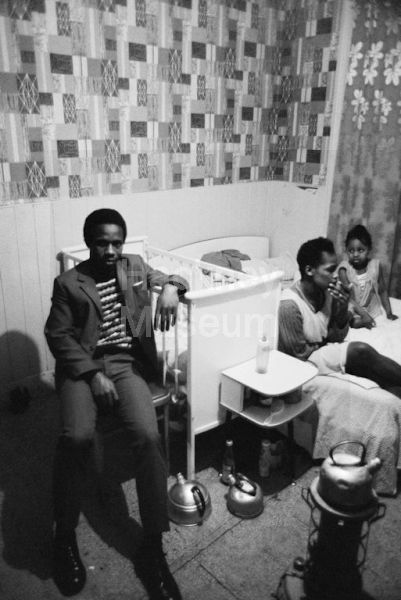 'Three Kettles' 1970. Sharing rooms and poor housing conditions were experienced by many arriving in London. Hackney Museum 2010.10 © Dennis Morris www.dennismorris.com
Sharing Spaces
Outside of the home, the Windrush generation worked and learned alongside white British people and had a wide range of experiences. Some had positive memories, while others recounted continuous discrimination and even violence.
Work in Britain was not hard to get, however people from the Caribbean were largely only offered jobs in the low paid service sector. Promotions were very rare and racist encounters with their employers and co-workers were common.
Eddie Noble moved to Britain in 1943 after joining the RAF. He believed he got on fine with the other airmen but noticed when they resented him dancing with a white girl – an act that led to a physical fight. He also noticed that he was never offered a promotion. Following the war, Eddie planned to leave the RAF and looked for a new job:
When I tried to get a job when I came out of the air force, I couldn't get a decent job. The only job offered to me was labouring work which I had never done in my life. I was forced
to go back into the air force for five years.

Eddie Noble, Hackney Museum, 2016.53
After eventually leaving the air force, Eddie was violently attacked while working as a traffic warden for the Metropolitan Police in the 1970s.
I was stationed at Kings Cross. One day I…[got] beaten up pretty badly and ended up in hospital. I nearly lost the sight of my right eye…

I know it was a racist attack because they didn't try to rob me and I hadn't issued a ticket or anything, I was just on my way for my tea break.

Eddie Noble, Hackney Museum, 2016.53
Many of the interviewees in 1998 said that they went about their lives with little interaction with white people outside of work. They instead formed close communities that bonded over their Caribbean roots and identities.
The next blog in this series, Togetherness, which explores the Caribbean communities in Hackney.
Content for this blog featured in the exhibition 'Windrush and Beyond' (2000) at Hackney Museum.